Give the Gift of Hand Lettering and a FREE Printable!!
You guys, I had to share this with you... I am taking this course and LOVING it, seriously!! I have ALWAYS wanted to learn hand lettering and with this amazing class I am doing it!! Eeek!!

I will let my good friend Jocie tell you all about it below. If you link up at my Creativity Unleashed party on Thursdays then you may already know her, she is one of the hosts too... and she rocks. :) She created this beautiful and inspiring printable with a phrase I wanted JUST FOR YOU!!

Here is Jocie...

Hi there, My Love 2 Create friends! My name is Jocie (pronounced jah-see), and I blog over at One Project Closer, a blog dedicated to DIY for the whole family. I'm super excited to be here to today to share with you this FREE hand lettered printable...after I share with you big news!

Mindi was sweet enough to invite me to share with you that this past summer I launched my hugely popular e-course,
the Busy Girl's Guide to Hand Lettering
!
If you love all those beautiful projects with hand lettering all over your IG feed or in the isles of Target, then this course is for you! Also, just in time for the holidays, you can also GIFT this e-course to your friends and family!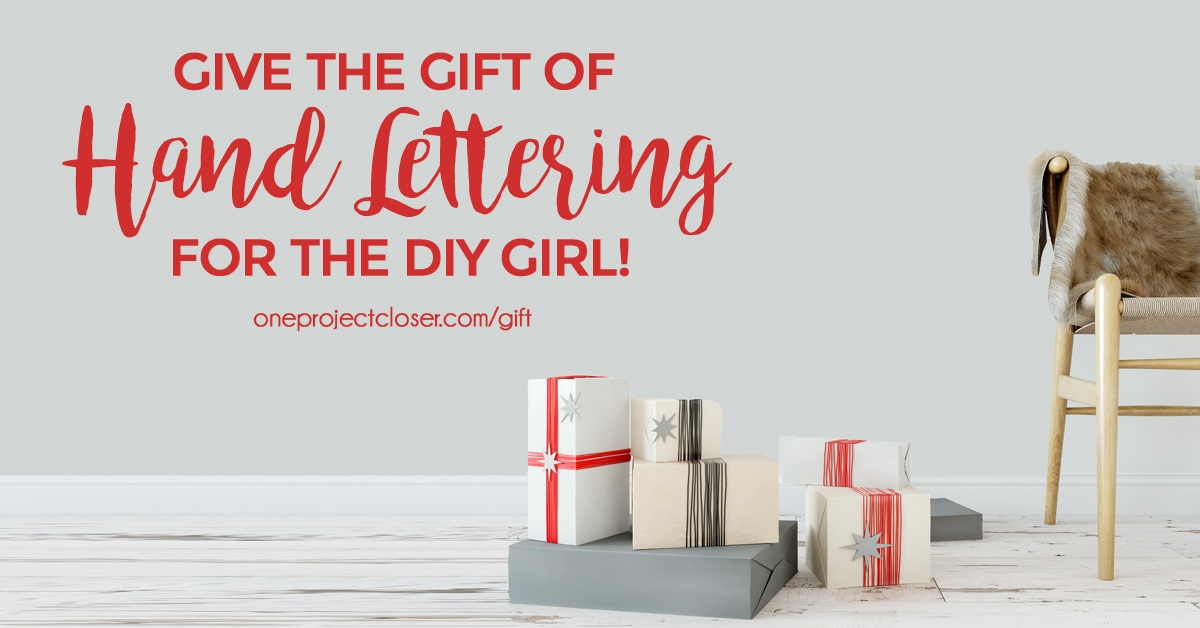 The Busy Girl's Guide to Hand Lettering is the perfect course for the DIY girl who desires to use hand lettering in decor and gifts but is just starting out with hand lettering!
You don't need beautiful handwriting, or to be super artsy, you just have to get started. In this course, I'll walk you through the basics of hand lettering, with lots of tips, tricks and printables to help you learn to letter like a pro, and show you all the materials (with printable shopping lists) to help get you started.
Then after you learn the basics, the course will show you, step-by-step, how to turn your hand lettering into beautiful decor, including pillows, wooden signs, mugs, t-shirts, and more!
Once you learn the basics of hand lettering, you can use it for a variety of gifts, like these hand lettered
DIY wood slice ornaments
,
Christmas Pallet
, or
Epsom Salt Ornaments
. Can you tell I'm excited for the holidays? Maybe, just a bit.

Just think of all the cute mugs you can make yourself (and your friends), so you can sip cocoa by the fire this winter in style!
The possibilities are endless! And honestly, I'm a bit addicted, and try to hand letter all the things. Seriously, I may have a problem. Bags, mugs, more bags, shirts, pots, cutting boards, journals....ALL. THE. THINGS!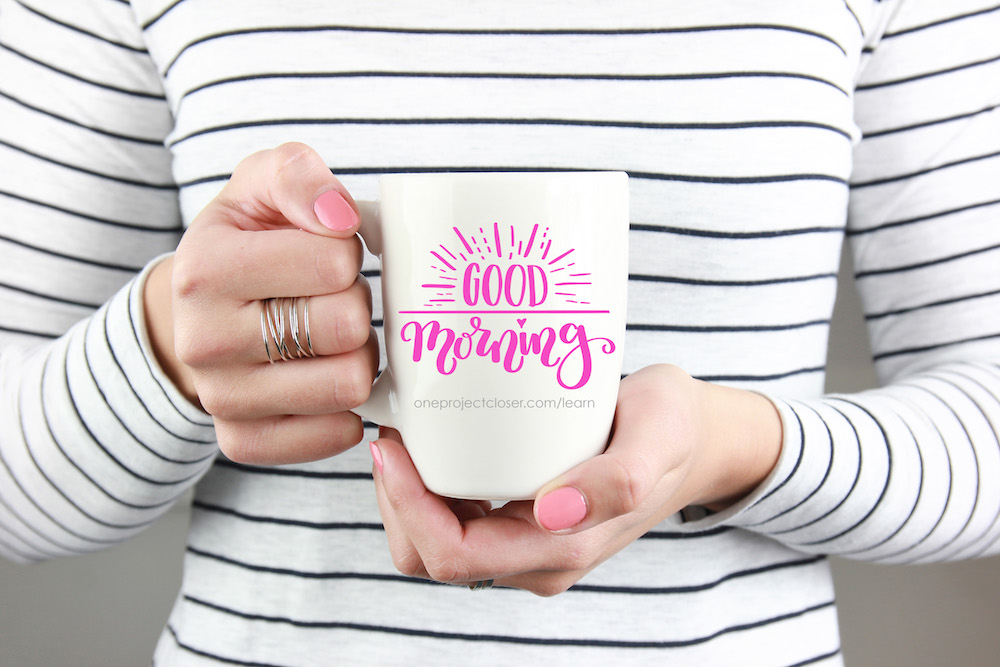 This post contains affiliate links,
read more
.
Back to the course - in case you weren't convinced, the course is a must, I've got a great deal for you!
If you buy the course the before December 5, 2017, you can use this awesome promo code to get 15% off - MYLOVE2CREATE15
. And if you still aren't convinced, here's everything you will get in the course:
Course does not expire. Learn at your own pace when your schedule allows!
Learn brush hand lettering techniques, tips and tricks.=
Use hand letterings for mugs, t-shirts, bags, gifts, pillows, signs + more
Convert your hand lettered art to Silhouette Cut Files
Staging Photos for Social Media
Hand Lettering on the iPad Pro
DIY wooden sign video tutorial
Free Printables + Silhouette cut files
Shopping lists
EXCLUSIVE Facebook group

Okay, so enough with my course promotion, right? I mean, you did buy it, right? I promise you're going to love it! LOL
But now for your
free printable, just for MyLove2Create friends!
When I asked Mindi what saying her fans might like, she was so genuine and encouraging about wanting you to feel empowered to create, not just for fun or crafting's sake, but in order to help grow and nurture your soul.
Isn't she the best?!? And as I thought about "creating a better me" I thought about how sometimes I limit myself to what I feel I am already capable of or what is right in front of me. Even in art, I limit myself.
Well, what if we DIDN'T limit ourselves, and we believed the stars were possible? So as you see this galaxy print on your wall, be reminded YOU CAN, and reach beyond your fear to create!
Jocie Hagan One Project Closer
Jocie (pronounce jah-see) is an editor at One Project Closer. A blog almost 10 years strong, OPC is a DIY site for the whole family, sharing everything from
how to refinish your had wood floors
, to
tons of free printables
and
Home Depot coupons
. Jocie lives in Baltimore with her husband and blog partner, Ethan and their two super cute (and crazy) kids, Isabella and Lucy. Blogger by day, mom by night, she enjoys crafting with the kids, reading a good book in her spare time (which is close to never), and hand lettering to relax.
I hope you love the free printable, I believe in YOU!! Isn't Jocie amazing?! I LOVE all her hand lettering creations and am practicing away with my new found skills so I can hand letter all the things too!
Don't forget to sign up now!! Or gift this to a friend or loved one, it truly is the gift that keeps on giving!
Hugs!
Mindi